Who may play for the team?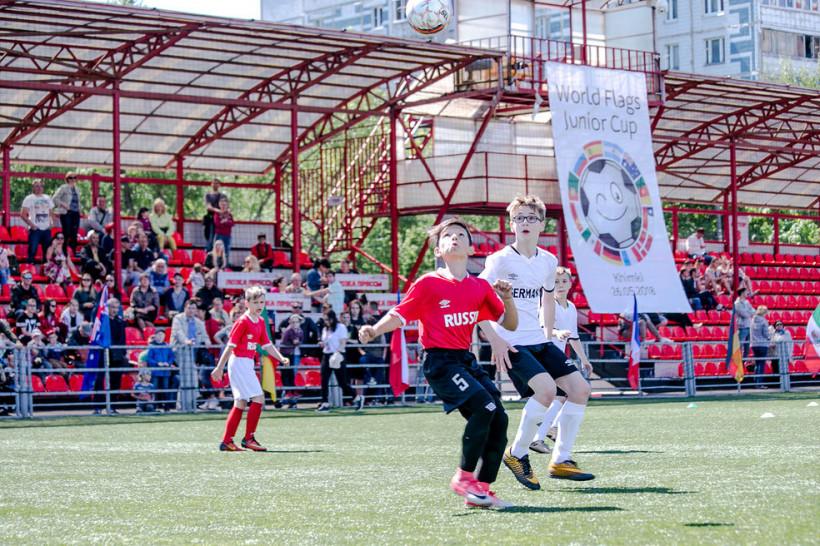 The team consists of 10 not professional players - both boys and girls - from 10 to 12 years (simultaneously on the field there are 1 goalkeeper and 5 field players)
Each team must be supported by the respective embassy in Moscow.
Options for the formation of the team:
Children from the respective country (children of Embassy employees, their friends, etc.);
Mixed teams. Embassies provide as many children as they can. If this is not enough, Khimki add Russian children to the team;
Russian children from the school with which the Embassy has a partnership;
Russian children from Khimki. If the Embassy does not have children of the right age, Khimki fully provides the Embassy with a team.
How are the rules
of our tournament?
The tournament is held in 2 stages according to the rules of the game of football:
• Stage 1 - the teams are divided into 4 groups at 4 or 5 teams in each group. The draw for the group stage will take place shortly before the tournament.
• Each team plays 1 game against each team in their group.
• The teams that finish 1st in their group will advance directly to the quarter-final. Teams ranked 2nd and 3rd in their groups advance to the 1/8 final.
• Stage 2 - starts with 1/8 finals, matches are conducted according to the Olympic system with knockout.
For a victory in a match 3 points are awarded, for a draw - 1 point; for a loss no point is awarded. If a team refuses to play or is late for a game, the team is scored a defeat - 0:3.
Game time and number of players:
- 2 half-times at 7 minutes each with a 2-minute break.
- 6 players participate in the match (5 on the field + 1 goalkeeper)
- The number of replacements is not limited, players can be replaced several times.
The size of the field – 40 m x 20 m, the size of the goal – 2 m x 3 m.
The size of the ball is 4.
Matches are played without offside.
Stage 1 (group stage)
Places for teams in the group stage are determined by the highest number of points scored in all games. If two or more teams have the same number of points, the following criteria apply:
- the best result in a face-to-face game;
- the best result of the difference between scored and conceded goals in all matches;
- the highest number of goals scored in all matches.
If all these indicators are equal, the places are determined by a draw.
Stage 2 (final stage)
At this stage, knockout games are held.
In playoff games, a 7-metre penalty kick (5 kicks each) is awarded in case of a draw in regular time. The order of penalty kicks is determined by drawing lots. In case of equality after five 7-meter strikes, the execution of the strikes continues in the same order until the first miss of one of the team